As you know, I've been training to run a marathon. It's not until April, which is still absolutely yonks away, but eternally early to everything, I've already started working hard to get to a place where I might actually complete a marathon in a decent time.
By which I mean, I get round before it gets dark.
As any race-training runner will know, cross-training is as important as training runs. I recently signed up to the gym near my office (thankfully only £20 a month – what a bargain!) and started training at lunch times. My schedule involves three lunch time runs a week and one lunch time for cross-training, before a long weekend run on the road. (I take Mondays as rest days because, well… Mondays).
When it came to deciding what cross-training I fancied doing, I immediately settled on spinning. I'd read some wonderful things about it online and it had a waiting list at the gym – so it must be good, right?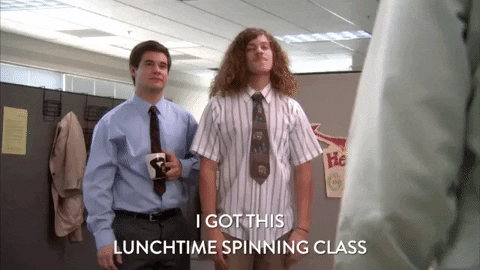 Well…right and wrong. When my colleagues asked how it went as I walked back into the office, I uttered the words hell on Earth as I went directly to the fridge for my lunch.
Hell on Earth
So it's not as bad as I made it sound, but it was something that I very quickly realised I wasn't going to love instantly. I imagined myself bouncing in and out of there, looking all preppy and fit. That's not what happened.
When I turned up, I thought it was weird how dark the spin studio was. I realise now that it was probably to save the instructor watching all of our sweaty faces contorting at the difficulty of it all. (He also had some nice coloured lighting that reminded me of primary school discos…that might be a more likely explanation).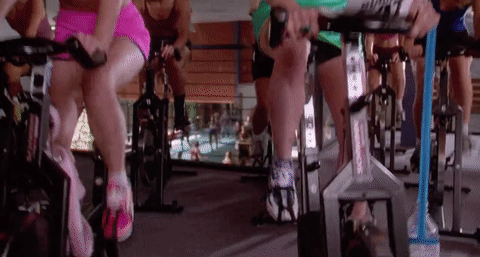 Luckily, I managed to choose a bike next to a lovely woman who immediately hopped off to help me get set up. I obviously had the whole 'deer in headlights' look about me… but she showed me where I needed to set my seat etc and checked to make sure I was comfortable. (I wasn't massively comfortable but those seats were designed by evil people).
The Register
So once the instructor arrived, turned on a loud rock playlist and told the beginners of the group (aka. me and one other person) what his instructions would mean, he told everyone to start on the lowest resistance. The word resistance, I warn you now, will become synonymous with all the things you hate in this world.
Then he started calling a register. I could barely hear what he was saying over the music (which was admittedly pretty cool), and I couldn't comprehend how everyone was RAISING THEIR HANDS when he called their name as if they weren't trying to balance on a bike and spin as quickly as they could.
When my name came, I must have raised a finger to acknowledge that it was me.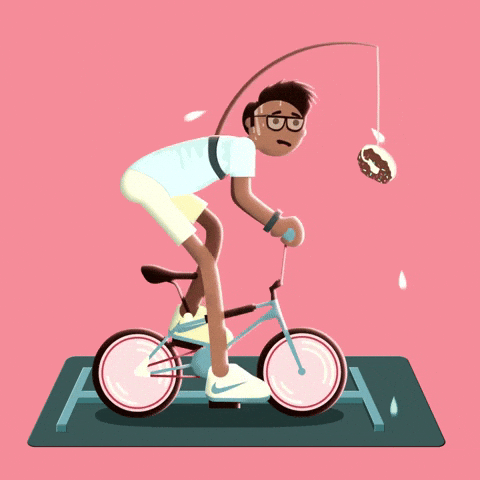 And then, the cramp
My foot was firmly jammed into the pedal on my bike, I was trying to spin as fast as I could (as per the instructions) and I was hit by the pain of foot cramp. I literally was stuck, I had to just keep going through it. It came and went throughout the whole session.
Despite the cramp and how tough it was, I did genuinely enjoy myself at points. Once we were in a rhythm it was much easier to keep up. There were points where the resistance was up so high that I couldn't actually move the pedals – I'd have to whack it back down again just so I could move them (jelly legs is the only way I can describe that).
It was definitely the longest 30 minutes of my life.
When it came to the end of the session (not that I was celebrating or anything), I hopped off my bike in the least elegant way possible, because it's really hard to get off. I was immediately hit with the need to just sleep, but I had to push myself through the shower before the afternoon in the office.
My body felt achey and sore for a couple of days afterwards, but in the attempt to not give it up after one go, I've booked myself in for the next session.
We'll see how that one goes!